"The Mercury Project" no.1
on the 27th of december is our promising first step to build up our experimental music activities in both asia and europe.
---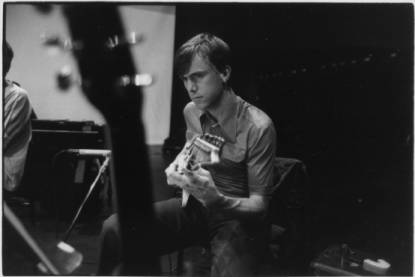 Tom Pauwels (Guitar, Electric guitar, Bass guitar)Ā@www.users.skynet.be/tom.pauwels
Tom Pauwels, born in 1974 at Bornem ( Belgium), started to learn playing the guitar at the local academy of music under Dirk de Hertogh and obtained to governemental medal in 1992.Also in this year Tom became laureate of the National Music contest of the Gemeentekrediet. In 1995 he participated the international contest for classical guitar at Plovdiv ( Bulgary) and became third, one year later he became laureate of the Mathilde-Horlait-Dapsens foundation. At 1997 Tom achieved the classical guitar Master degree with excellence as a pupil of Albert Sunderman at the Royal Conservatorium of Brussels. Then, in the Socrates exchange program, he continued his education for one year at the Musikhochschule of Coln (Germany) under Hubert Käppel. Since 1996 he is a regular member of 'Black Jackets Company', a contemporary music ensemble that consists of four composers and five performers.
In duo with violinist David NuĖez, a CD has been recorded in Caracas, Venezuela for the Lyric label, covering work of N. Paganini, M. Guiliani, S. Weiner and A. Piazzolla. This was the beginning of intensive concert playing throughout Europe and South-America. Moreover this CD allowed them to participate the 3rd OSAKA International Chamber music Competition and Festa at which the earned the 3rd price at the Festa competition.They both won the first price at the "Découvertes Classiques de l'Eurorégion" contest.
Today he is running a project about contemporary guitar music at the Orpheus institute and is studying at the Musikhochschule of Munster with Reinbert Evers.
He worked with several composers as Helmut Oehring, Paul Craenen, Godfried-Willem Raes, Kaaija Saariaho, Fausto Romitelli, David Helbich, Marianthi Papalexandri, Chao-Ming Tung, Helmut Lachenmann,É.Besides that he is working with the Ictus ensemble and Champ d'action, two distinguished contemporary music ensembles. Since Fall 2000 he teaches the guitar at the Conservatory of Gent (Belgium).

---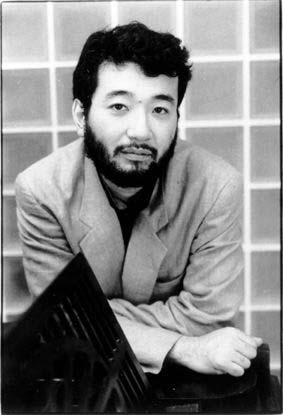 Yutaka Oya (Piano, keyboard) e-mail : yutaka.oya@skynet.be
At the age of 13, Yutaka Oya won the First Prize in the All Japan Student Music Competition, the national competition of the Japanese radio and television. He graduated from the Toho School of Music in Tokyo and he followed masterclasses by Georgy Sebok and Zoltan Kocsis. He completed his musical training in Belgium, obtaining diplomas with outstanding marks at the Royal Conservatories of Antwerp (for piano) and Liege (for chamber music).
Yutaka Oya is an all-round pianist. He worked with most Belgian ensembles and orchestras and plays on many recordings. He performed as a soloist and a chamber musician in Japan, the Philippines, Canada, the U.S.A, Russia, and in most European countries. Besides, he is a familiar presence in the world of contemporary dance and theater as well. Next to Das Wohltemperierte Klavier (more than 25 performances until today) and the big classical and romantic repertoire, his repertoire includes dozens of chamber music and piano solo world premieres of creations by European and Japanese contemporary composers. He is a member of the Belgian contemporary music ensemble Champ d'Action, Ebony Trio and The Mercury Project.
---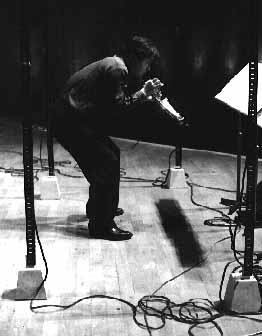 Kiyonori Sokabe (Trumpet, Zephyros, Cornet, Flugelhorn)
Born in Ehime Pref. in 1952, Kiyonori Sokabe is a graduate of the Instrumental Music Department of the Tokyo National University of Fine Art and Music. He studied trumpet under Fujio Nakayama and Genzo Kitamura. After graduation, Sokabe joined in the founding of the "Ueno no Mori" Brass ensemble and has continued to serve as its concert master for more than twenty years. During this time he has made two overseas tours, released four CD's and has continued concert performances within Japan at a rate of more than 50 a year.
Highly acclaimed in Japan as a specialist in the performance of contemporary music. Sokabe was also a central member of the world-renowned composer Jo Kondo's Musica Practica Ensemble and during the ten year before its dissolution, gave many premiere performances of new compositions both domestically and overseas.
In recent year Sokabe has also performed actively as a soloist, winning acclaim for his performances not only of the Haydn and Hummel concertos with orchestras in the Tokyo area but also for works by composers like J.D. Leopold Mozart and Andre Jolivet. In 1994, he was soloist for the performance of Ken Ito' Festina Lente 'with the Tokyo Philharmonic Orchestra at one of its regular concerts. Also, he gave the world's first performance of a new work
by Michael Lyman at the Tokyo Summer Festival. Sokabe has also performed at the Hokutopia International Music Festivals of 1995 and '98.
Sokabe became the first Japanese trumpet player to give a series of concerts consisting solely of contemporary pieces, including as its venues Osaka in December of 1994 and Tokyo in January of 1996 and May of 1997, which were very well received and covered in such music publications as Ongaku no Tomo, Ongaku Geijutsu, Ongaku Gendai, Band Journal and Pipers.
Wishing to generate music from his native Ehime Prefecture, Sokabe has held recitals there every summer since 1996, from which numerous new pieces have emerged.
Sokabe has also been active in the creation of new instruments and mutes (which he calls Sound Transformers (STF)), with the slide-fitted Zephyros trumpet he originally proposed now stimulating a large number of composers
to write many pieces specifically for this new type of trumpet. Furthermore, Sokabe is ambitiously pursuing the creation of new music utilizing computers.
In June of 1999, Sokabe released a CD from Kojima Recordings titled ''Till Now and From Now On........''(ALCD-50) made up completely of pieces by Japanese composers. And in June of 2000, he released a CD titled ''limpid solitude''(ALCD-55) all played by himself.
Sokabe can surely be said to be the most active trumpet soloist in Japan today (contemporary music), creating music aimed at the entire music world.
http://www.jade.dti.ne.jp/~ebakos/pageE/top-e.html
---